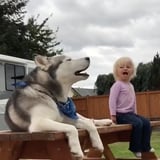 Everlee & Dude having their own conversation!!! 😂😂😂❤️❤️

Posted by Destanie Heath on Saturday, September 14, 2019
A toddler named Everlee and her dog Dude seem to share the kind of unbreakable bond that most kids and their fur siblings have, but the difference between them and most child-pet pairs is that Everlee talks to Dude, and the Husky talks right back. In a hilarious and adorable video shared to Facebook by Everlee and Dude's mom, Destanie Heath, the duo can be seen sitting atop a picnic table yapping incoherently at each other, and I honestly can't decide which one of them is cuter. After Destanie's first video of Everlee and Dude went viral, she shared another clip, captioning it, "Yes, this is an everyday thing!" See Everlee and Dude chatting away in the video above!